Along with millions of others, I got up at 4:45am to watch Prince William marry Kate Middleton. I am so glad I did. It was so spectacular. I have found myself very intrigued with the history of the monarchy this past month. I can rattle off several facts about various members of the family. I even feel like I was at Prince Charles and Diana's wedding; I have seen footage of their wedding all week and watched some pop-up video like show on their wedding. I wasn't there. Not even close.
I was negative 6 when you two married.




I absolutely loved the Bishop of London's sermon at this royal wedding.
"Be who God meant you to be and you will set the world on fire." So said St Catherine of Siena whose festival day it is today. Marriage is intended to be a way in which man and woman help each other to become what God meant each one to be, their deepest and truest selves.
Many are full of fear for the future of the prospects of our world but the message of the celebrations in this country and far beyond its shores is the right one – this is a joyful day! It is good that people in every continent are able to share in these celebrations because this is, as every wedding day should be, a day of hope.
In a sense every wedding is a royal wedding with the bride and the groom as king and queen of creation, making a new life together so that life can flow through them into the future.
If you missed the sermon - you can read it
here
I feel like the Duke and Duchess of Cambridge are my friends. Does anyone else feel that way, or is it just me? Probably just me.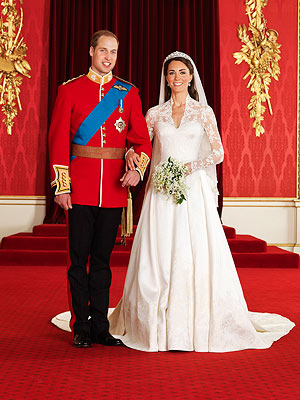 I'll mail you two a Christmas card!
All of this has made me want to visit England and buy a fancy hat.
Beautiful day. I'm still partial to mine:
-Jack and Kayla
PS. I am re-watching the coverage again. I love DVR.